A lightly sprained ankle brought a quick end to last weekend's 30 mile backpacking trip, but it quickly became a weekend of appreciating the goodness of strangers and embracing the unplanned. With an extra day to spend in Grand Marais, MN we ate at the Angry Trout, a restaurant that serves seasonal fish caught that morning in Lake Superior on a tiny fishing boat that sits on the dock in sight of the tables. Sitting in the brilliant sun taking in the cool air along Lake Superior, we enjoyed fresh fish sandwiches, perfectly composed of beautiful fresh ingredients. The perfection of those sandwiches speaks to the importance of quality, seasonal foods.
After lunch, we explored North House Folk School just down the road and walked away with a lovely book on sustainable agriculture in the upper midwest, Beth Dooley's In Winter's Kitchen. So far, I've read the first chapter on apples, and I look forward to reading more and reporting back.
Highlights from last week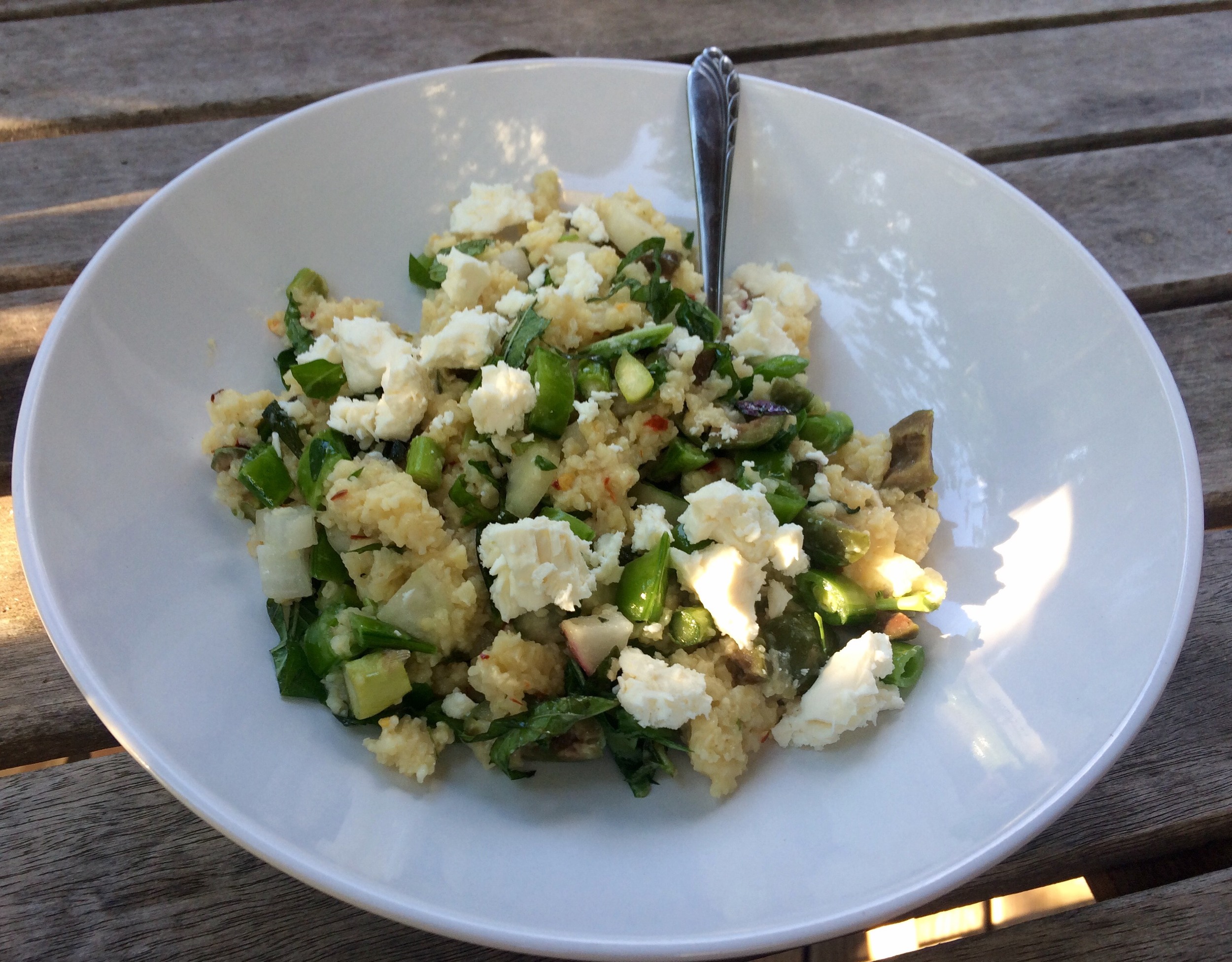 Lots of salads, of course. I forgot to take pictures of my lunches along the way, but trust me, lots of salads. For a weeknight dinner, we improvised a millet salad with homemade honey mustard vinaigrette, snap peas, arugula, basil, mint, olives, and feta cheese. Another night we made orecchiette with lots of peas, pancetta, and mint in a garlicky cream sauce. To celebrate the birthday of a dear friend we made pizzas with fancy cheeses and olive oil roasted radishes. I'll share that recipe below, if you're curious.
I've got some free time today, so I'm planning to make a large batch of radish top soup using bunches of tops I have laying around. It freezes really well, so for us it makes a great on-hand work lunch. I saved back the garlic scapes for a recipe later in the week, but now that we've gotten a second bundle, I may make a pesto instead.
Beets
We love to eat sliced raw beets in salads; they're a healthy way to add some heft to a salad. Another of our favorite recipes for beets is a grated beet salad that I'm sure I've shared here before. Blake brought this recipe to my kitchen nearly 6 years ago and it's stuck around because it's simple, easy to prepare, and satisfyingly healthy. We wash the beets, but don't bother peeling them. Then, we grate them on a box grater and toss with fresh lemon juice, olive oil, salt, and a little pepper. To lighten it up, we've grated an apple or a few carrots into the salad as well. It's a great quick side for lunch or dinner or a flashy and popular potluck dish.
Radishes
As promised, here is the recipe for the radish pizzas we made this week. The salty cheese and spicy black pepper are perfect with the mellow roasted radishes. I didn't have time to let the dough rest overnight as recommended, so I went with the 2 hour resting period instead. I imagine you could swap out lots of different veggies for the radishes here, too.
Broccoli
This vegan cream of broccoli soup is very similar to my favorite radish top soup, so I'm thinking it would work with a combination of broccoli and greens from this week share. Consider lightening it up with a squeeze of fresh lemon just before serving or, if you eat dairy, a dollop of plain yogurt.
Or, if you have a 4th of July barbecue to attend, a broccoli and kohlrabi slaw or pasta/grain salad would be a light veggie side to bring along. Rather than following a recipe, I think this is a great opportunity to improv. For a creamy slaw or salad, homemade mayo is an option (I have always hated Miracle Whip and every other jarred mayo I've come across; I wouldn't eat anything in the category until I'd tasted homemade aioli/mayo.), and so is yogurt. For a non-dairy (my preferred) option, a lemony vinaigrette is a good choice. When I make a grain or pasta salad with a vinaigrette, I dress the grains/pasta while it's still hot. I find that the heat helps it absorb the flavor a little better. For herbs, dill, parsley, or garlic scapes would be tasty. Slivered almonds for crunch, maybe, and some kind of fruit, raisins, dried cranberries, or chopped apples for some sweetness. A few more succinct ideas:
Matchsticked broccoli and kohlrabi, lemon vinaigrette, parsley, green apple
Rotini, yogurt, lemon juice, broccoli, kohlrabi, dried cranberries, slivered almonds
Orzo, lemon red wine vinaigrette, oregano, broccoli, kohlrabi, feta cheese
Millet, lemon honey mustard vinaigrette, shredded broccoli and kohlrabi, basil, raisins